From Racing to simracing
Venym was born on the Nevers-Magny-Cours circuit, heart of motorsport in France, by an enthusiasts team supported by Mygale and its 30 years of experience in automobile competition.
Venym is the assurance of high-performance sim racing pedals, tested and approved by the greatest drivers and designed by automotive engineers specialized in competition. Our Venym's pedals (aluminum and carbon) dedicated to sim racing are the first pedals designed in France inspired by the design and technologies used in F1 cockpits.
Venym's pedals have been designed to meet the most challenging requirements of sim racing enthusiasts. Developed using our Mygale Technology, a cutting-edge technology used in all Formula 4 and Formula 3R cars, Venym's aluminum and carbon pedal box combine finest design and precision to provide unique sensations during your sim racing races.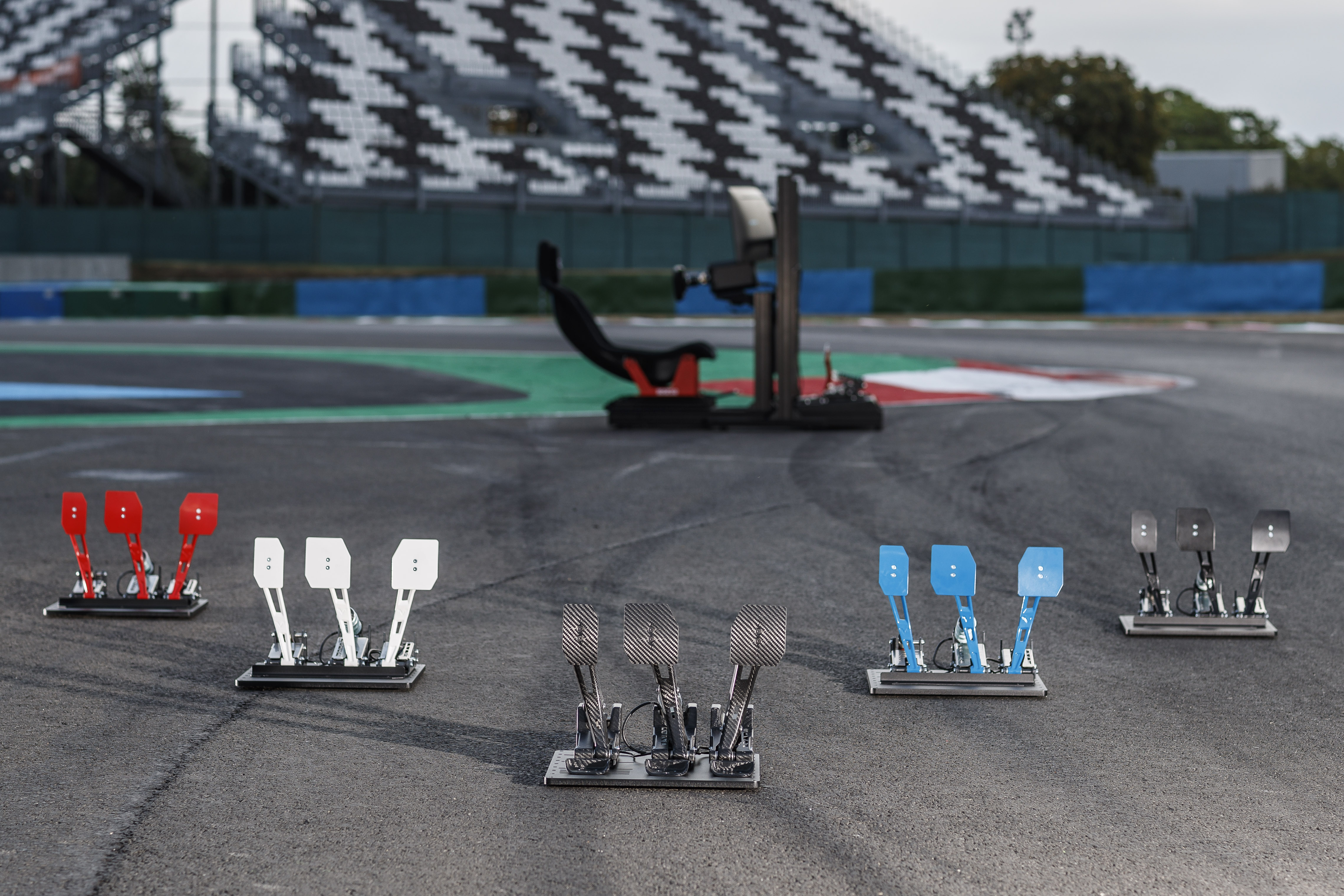 As the boundary between the virtual and the real becomes increasingly narrow, we have surrounded ourselves with the best engineers, drivers, esport teams in order to offer the most galvanizing sim racing experience. After several months of research, we are proud to offer you our range of aluminum and carbon pedals, the most accomplished and efficient at the highest level.
Innovation and performance are two key words in the Venym's motto. Our sim racing pedals meet the highest quality standards : machined aluminum or carbon, an electronic board designed and manufactured specifically for Venym in France, as well as our software developed internally in our offices.
Partnership with Romain Grosjean and R8G Esports
We are so proud to announce that our partnership with Romain GROSJEAN and his esport simracing team, the R8G, is effective as of today.
We have been working with R8G to develop the best product possible. Romain Grosjean and his team have given us their help and expertise in the development of our Venym ATRAX pedals.
R8G esport team will be granted with Venym's pedals for their future competitions and we will continue to support them through their journey.
Romain Grosjean on his partnership with Venym :
"R8G Esport is gonna join and represent Venym through esport sim races. We're super excited to be part of this project, we can't wait to see what's gonna bring us. It's definitely gonna push us to the next level."
Romain is also talking about his young members of R8G and his willing to help them to discover the real world of racing.
"I want to give the chance to young esport simracers to feel the sensations as close as possible to real race cars driving."
Follow Venym on socials
WEBSITE VENYM : venym.com
Instagram : venym_official
Facebook : Venym