Six years after winning the last title of Italian Champion with Ricardo Agostini and JD Motorsport, Mygale returns to Formula 3.
At the last World Council, the FIA officially announced the creation of a new Formula 3 in 2019. In order to sit the pyramid of the single-seat sector, it stands out with an international series replacing the GP3 and regional series with a more accessible car.
Regional Formula 3 is largely inspired by the new Formula 1 regulations with a wider, longer, and lower car equipped with 10 "PIRELLI tires at the front and 12" at the rear.
It is equipped with a turbo engine developed by our partner ORECA, respecting the FIA power curve set at 270 hp.
Produced with the support of the ERDF (European Regional Development Fund)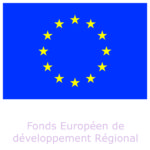 Chassis

Carbon fibre monocoque, homologated to FIA F3 2018 specification

Engine

1.8 Turbo 270HP FIA homologated engine

Suspensions

Front and rear: double wishbone suspension with pushrod and 2 way ZF Sachs adjustable dampers. Coil springs, adjustable anti roll bars and fully machined aluminium uprights

Safety

Homologated to FIA F3 2018 standards (front and rear crashboxes, front and side anti intrusion panels, steel roll hoop and halo, extractible driver's seat, twin wheel tethers, extinguisher and collapsible steering column)

Aerodynamics

Front wing with adjustable flaps. Three element rear wing with two adjustable upper elements. Rear diffuser and sidepod wings. Engine cover with shark fin

Dimensions

4894mm x 1832mm x 988mm

Wheels

Rimstock aluminium wheels

Front rim 10 x 13 inches

Rear rim 12 x 13 inches

Tyres : according to championship choice

Brakes

4 piston aluminium, radial mount calipers front and rear. 4 floating baffled discs 280mm. Cockpit adjustable brake bias and adjustable pedal box

Transmission

Sadev 6 speed, sequential gearbox with limited slip differential. Custom driveshafts with inboard and outboard tripode joints. Electrical gearshift actuator with steering wheel paddles

Fuel tank

FIA FT5 type safety fuel tank. Volume 60L

Steering

FIA homologated collapsible steering column and quick release. Unassisted rack and pinion assembly

Wiring/Data

Wiring loom to FIA specification with prevision for ADR box and FIA marshalling system. Electrical protection by power distribution boxes

Magneti Marelli data acquisition system. Roll hoop mounted camera. Steering wheel with electronic dashboard

Price

77.000€ rolling chassis (without engine and excluding VAT)