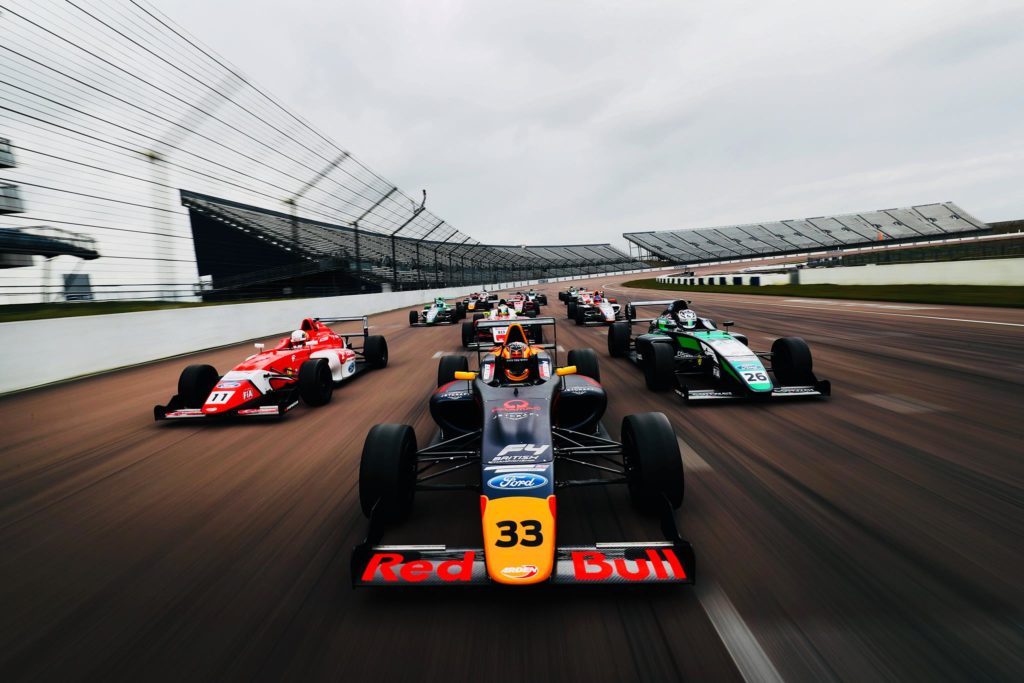 About the F4 British Championship
The F4 British Championship certified by FIA – powered by Ford EcoBoost is the UK's premier single-seater series, the only championship open to 15-year-old drivers and the first step on the FIA single-seater pyramid to F1.
It is the most remarkable initiative in junior single-seater racing since the launch of the original Formula Ford in 1967; a concept which helped develop and mould the track careers of so many of motor racing's great names.
Britain's official version of the FIA's Formula 4 concept was introduced in 2015 and is widely regarded as the most competitive junior category single seat championship in the world.
Powered by the race-proven Ford 1.6L EcoBoost engine which is tuned to deliver the FIA's maximum permitted 160 PS, the championship's carbon-fibre monocoque chassis provides drivers with a safe, reliable and economical means of getting on the grid for the first time.
Designed to be a globally recognised, yet affordable step between karting and F3; the F4 British Championship has established itself as the place for junior drivers from around the globe to embark upon their single-seater careers and make their first strides to F1.
2018 saw a rich crop of Ford EcoBoost-powered talent provide an abundance of scintillating wheel-to-wheel action in what was Ford's 51st consecutive year at the forefront of junior single-seaters. Records were broken, boundaries of performance pushed and the bar raised even higher in the only single-seater series in Britain open to 15-year-old drivers – with Kiern Jewiss the latest to join a long list of illustrious Champions in Double R Racing's maiden triumph.
The F4 British Championship plays a starring role on live television on ITV4 as the sole singer-seater support event on the TOCA package. Racing in Britain, the home of F1, with a 30 race schedule in front of the British Touring Car Championship's massive spectator fanbase at the UK's major circuits.
In 2020 drivers will once again battle it out for the most coveted prize in British single-seater racing: to be crowned FIA British Formula 4 Champion. FIA Super Licence points will be awarded to the top seven drivers to enable their progression up the motorsport ladder and the champion will receive a fully funded test with a leading F3 team in Europe.
Attractive purchase price
One of the chief attractions of the F4 British Championship certified by FIA – powered by Ford EcoBoost is its remarkable value for money. Not only has the cost of a new chassis been kept to a minimum, careful attention has been paid to the cost of consumables and ease of repair. The technical regulations provide strict governance to ensure that a cap is kept on running costs. The F4 British Championship is the only British series running to the FIA's mandated price cap system. This enables affordable racing and ensures one of the lowest running costs of any single-seater car.
Powered by Ford EcoBoost
The motive power for our Mygale FIA Formula 4 car, the 1.6 litre DI turbocharged EcoBoost, is a mainstay of Ford's performance car range. The 160 PS unit is designed and manufactured by Ford in Britain and supplied at a price to meet the FIA's mandated price cap. It is the only engine homologated by the FIA for use in F4 chassis in the UK. The engines and their electronic management systems are supplied by engine tuner Sodemo in sealed form, following dyno testing and power matching to +/- 1.5% tolerance to ensure a level and fair playing field.
Chassis by Mygale
The Mygale F4 chassis, which has also been supplied to the Australian, Chinese, Danish, Malaysian, and Mexican markets, is designed around FIA F3 level safety requirements; including front and rear impact absorbing structures, anti-intrusion side panels, roll hoops, FIA head restraint system, wheel restraining cables, FIA safety seat and retractable steering wheel and column.
Tyres by Hankook
F4 British Championship certified by FIA – powered by Ford cars race on Hankook F200 slick and Hankook Z206/7 wet-weather tyres, identical in construction to those employed in the FIA European F3 Championship. This means drivers are be able to gain valuable experience of the tyres and their characteristics ahead of their next step up the FIA' single-seater pyramid.
How to compete?
To go circuit racing, you will need a racing licence, which like all motor sport licences is issued by the national governing body of the sport, Motorsport UK.
For further information about the various grades and licence requirements required to compete in British F4, please contact the championship Promoter, Sam Roach:  s.roach@racingline.com 
Latest news
British F4 Championship latest news on: www.fiaformula4.com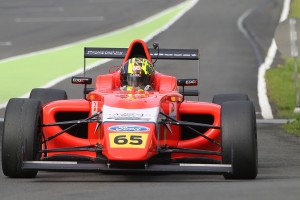 Contacts
Championship Promoter: Sam Roach
• s.roach@racingline.com
• +44 (0) 7866 737343
• +44 (0) 8456 805077
On-line Documentation

To access FIA Formula 4 online documentation, please click here.