VALUES

CERTIFICATION
Mygale is ISO9001 v2008 certified by Bureau Veritas since the 22nd of January 2004.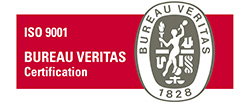 The aim of the certification is for us to commit to the high standards of our customers and partners as well as to follow the rules and regulations of our activities. Each one of our employees work according to the quality procedures defined both for race cars and spare parts, and continue to develop and upgrade the efficiency of the system, keeping permanent progress in mind as far as exploiting activity measures is concerned so as to keep to the certification development.
The expertise of a wide range of highly-skilled staff is involved, from the very moment we design a race car until the car is finished. The structure of the company enables Mygale to make every single element of this system into an asset for the company, so that we are able to remain leaders in our field of activity.